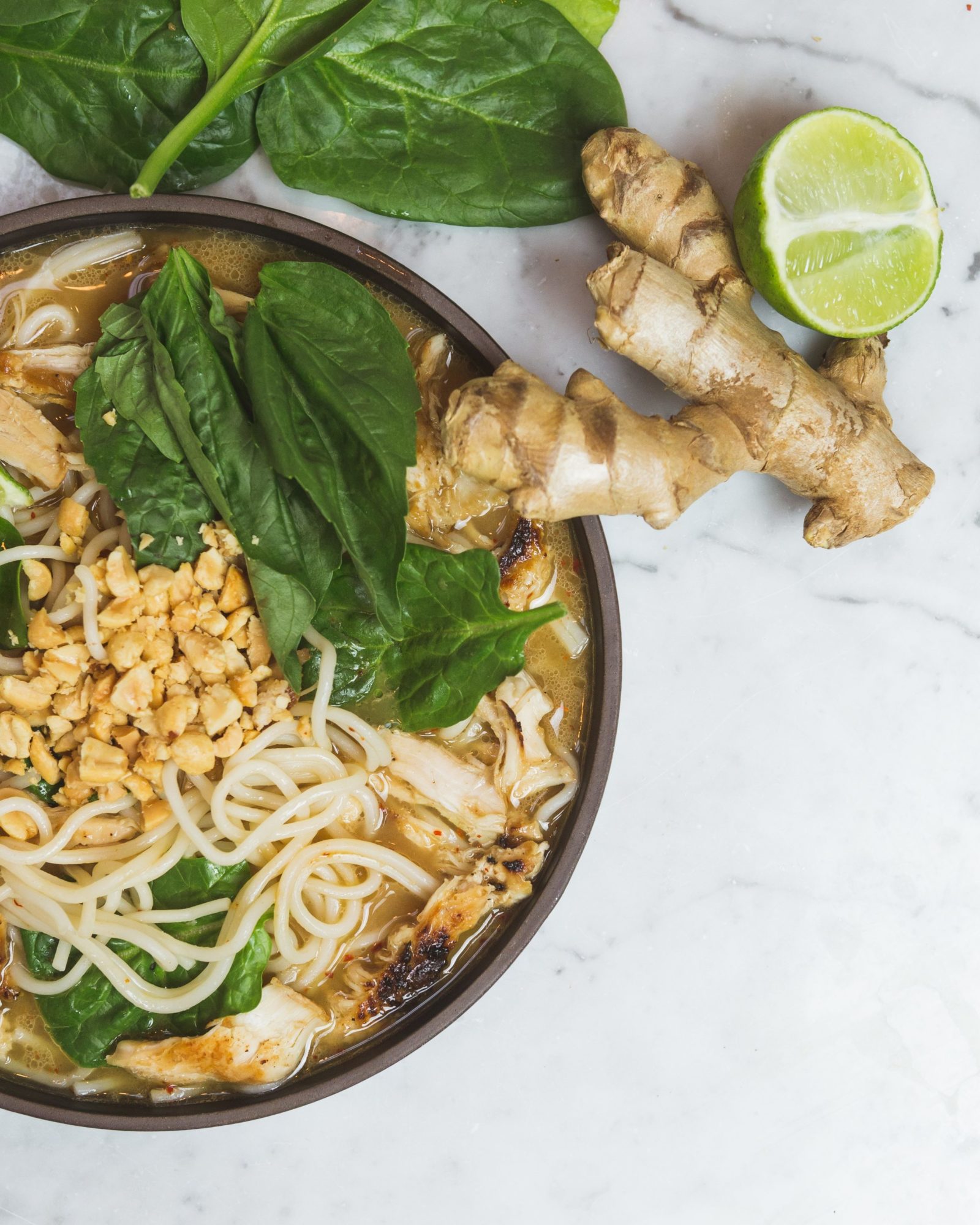 01 May

Soothing Medicinal Chicken Soup

When you feel run down and start getting those first signs and symptoms of a lurgy there's nothing better than a soothing and medicinal soup.

Food can be the best medicine when prepared and eaten correctly. No one knows how to mix and match the flavours and the healing properties of food better than our inspirational friend and awesome nutritionist and chef Sam Gowing at Gowing's Food Health Wealth.

Sam has kindly shared her delicious Tumeric Chicken Noodle Soup recipe with us in preparation for winter.
Sammy's Turmeric Chicken Noodle Soup
Serves 4 | Prep 10 minutes | Cook 20 minutes        
Ingredients:
1 litre chicken stock
2 tablespoons tamari (gluten free soy)
1 small packet vermicelli, kelp or soba noodles, prepared as per packet instructions
2 small red chillies, chopped
1 tablespoon fresh ginger, grated
1 tablespoon fresh turmeric, grated
2 bok choy, chopped
1 cup cooked chicken, no skin, shredded
¼ cup parsley, chopped
4 spring onions, finely sliced
2 limes, juice of
Instructions:
1) Bring chicken stock and 2 tablespoons of tamari to the boil. Reduce heat.
2) Add noodles, red chilli, grated ginger, turmeric and bok choy.
3) Simmer for a few minutes until noodles are cooked. Add cooked chicken.
4) Stir through parsley, spring onions and a squeeze of lime juice to serve.
Soup is relatively easy to digest and absorb and this soup truly is like having super tasty medicine in a bowl!
It's medicinal benefits come from the mix of ingredients such as turmeric, ginger and spring onions.
Turmeric is a powerful antioxidant due to its content of curcumin. Turmeric can reduce histamine levels, promote circulation and lower cholesterol. It also has anti-inflammatory, anti-microbial and anti-bacterial properties. In addition, it's yellow colour is beautifully vibrant and the taste will spice up your life nicely. We often use turmeric in Chinese herbal medicine formulas to help improve blood circulation and reduce pain.
Spring onions (also known as scallions) have been found to boost immunity, improve bone and heart health and can assist in weight loss.
Ginger is warming and has been shown to be beneficial in treating colds and coughs and can clear phlegm from the lungs, sinus and throat. It is a diaphoretic which means it will help you sweat and release symptoms of colds and flus. Ginger also has a warming and soothing effect on the digestive system and is useful in settling nausea, vomiting, dizziness and motion sickness. Ginger can also add great flavour to teas, smoothies, and many delicious dishes such as this medicinal soup by Sam Gowing.
Sam is coming to Natural Wellness on Friday 17th of May to talk about Food As Medicine and to offer personalised nutritional consultations. For more information click here